Paper Ceilings "Too Long, Didn't Read" Email List
Sign up and receive Paper Ceilings news in your inbox. I promise it will only be important stuff like new music or tour dates! I might never even send you an email at all!
To sign up, send an email to paperceilingsmusic [at] gmail [dot] com. I used to have a box here to just input your email address, but then the spambots took it over. Sorry! Just send me an email!
latest news
10/30/17: "So Many Dogs!" Record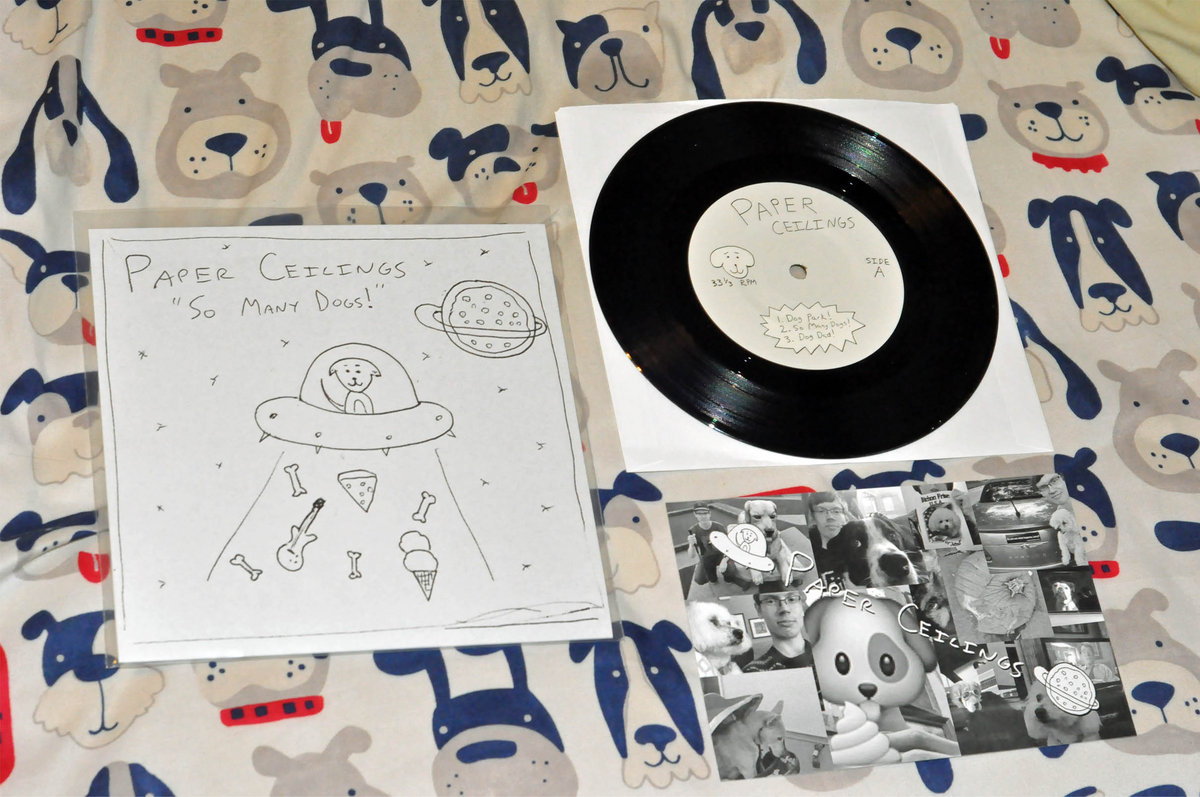 The "So Many Dogs!" EP has finally been pressed on a 7" record and is available now. I'm doing a flexible name-your-price deal on it - basically there is a $5 recommended price on the record, but the minimum price is actually $1 (+ shipping). Check it out here if you're interested!
2/5/17: A Pretty Good Time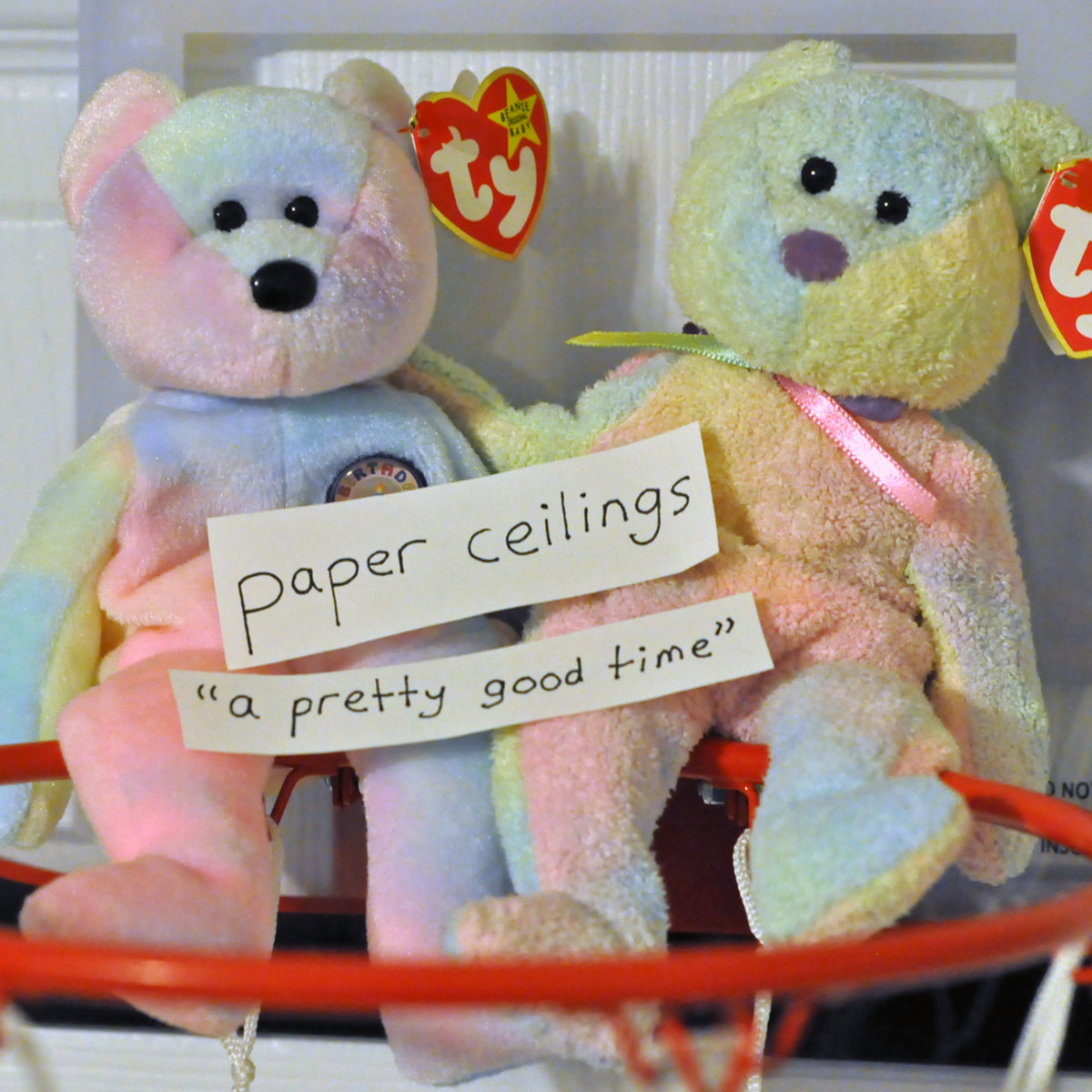 Oops I released a new album a few weeks ago and forgot to update my website! I'm sure you've all been endlessly refreshing this page wondering what's going on. Go check it out over on Bandcamp. It should also be on all those different streaming platforms that you may or may not use. Talk to you later!
12/19/16: DOG SANTA!
Hi friends! Here's a new Christmas tune I wrote. I always swore I'd never write a Christmas song but I decided to make an exception for a ~DOG~ Christmas song.


6/11/16: A few things!
Hey! It's been a minute since I've put any news up on here. I have a few things to tell you about. First of all, I put out a bunch of new music last month. I kind of hesitate to call it an "album" but it's longer than any of my other releases so that's probably what it is! It's the result of trying to write 28 songs in 28 days. I mostly succeeded. There's a lot of weird stuff going on in these songs. It's a digital release only right now (and probably forever!). Give it a listen right here: https://paperceilings.bandcamp.com/album/everything-is-what-you-say

Secondly, I've got a couple videos to share with you. One is a Trundle Session I recorded back in January in Tucson, AZ with Diet Pop Records. The other is a video of the lovely folks Logan & Lucille (who are the people behind Diet Pop/Trundle Sessions!) covering my song "Palm Muted Power Chords" for A Fistful of Vinyl on KXLU in Los Angeles. Both the Trundle and Fistful of Vinyl folks have a lot of awesome sessions up on their pages and are doing real cool stuff in the DIY scene. Click their names in that last sentence and you can scroll through and find some neat stuff to check it out if you have a minute!




2/23/16: A couple new live sessions!
Here are a couple new live videos from the last few months. First is a Small Step Session filmed by Forever An Astronaut in St. Louis, MO at Pancake Fest last October. Second is a video of me playing five songs at KJHK in Lawrence, KS last month. Enjoy!




2/1/16: Split with Run-On Sunshine!
I'm home from tour now! I had a really wonderful time but it's nice to be home all the same. Thanks to everyone who came out to a show or helped in any way. Now that I'm home, I've finally uploaded my new split with Run-On Sunshine. You can download/stream for free on Bandcamp or even order a tape if you want to! There are also some leftover tour poster for sale for $1 each on Bandcamp. Anyway you can check out the split here: https://paperceilings.bandcamp.com/album/dogs-and-cats-living-together


12/15/15: Tour w/ Sleeping Cranes!
I'm hitting the road and heading southwest with Sleeping Cranes this January. Check out the dates on the flyer below and head over to the shows page for more details! See ya somewhere!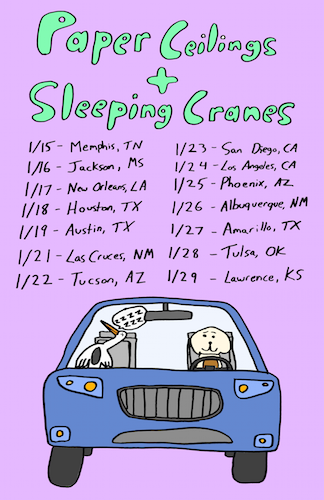 8/20/15: The new album is out!
Hey y'all, my new album "Baseball" is out now on Bandcamp, Spotify etc. as well as on CD. The cassette version is already sold out, sorry! Give it a listen if you have a few free minutes and let me know what you think! :)