Paper Ceilings "Too Long, Didn't Read" Email List
Sign up and receive Paper Ceilings news in your inbox. I promise it will only be important stuff like new music or tour dates! I might never even send you an email at all!
latest news
2/23/16: A couple new live sessions!
Here are a couple new live videos from the last few months. First is a Small Step Session filmed by Forever An Astronaut in St. Louis, MO at Pancake Fest last October. Second is a video of me playing five songs at KJHK in Lawrence, KS last month. Enjoy!




2/1/16: Split with Run-On Sunshine!
I'm home from tour now! I had a really wonderful time but it's nice to be home all the same. Thanks to everyone who came out to a show or helped in any way. Now that I'm home, I've finally uploaded my new split with Run-On Sunshine. You can download/stream for free on Bandcamp or even order a tape if you want to! There are also some leftover tour poster for sale for $1 each on Bandcamp. Anyway you can check out the split here: https://paperceilings.bandcamp.com/album/dogs-and-cats-living-together


12/15/15: Tour w/ Sleeping Cranes!
I'm hitting the road and heading southwest with Sleeping Cranes this January. Check out the dates on the flyer below and head over to the shows page for more details! See ya somewhere!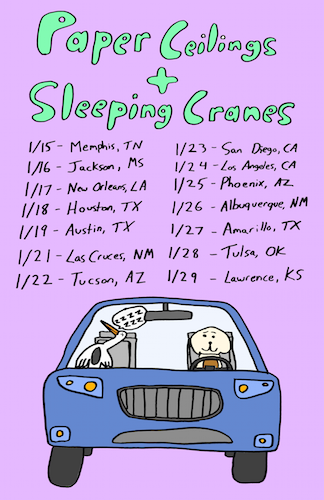 8/20/15: The new album is out!
Hey y'all, my new album "Baseball" is out now on Bandcamp, Spotify etc. as well as on CD. The cassette version is already sold out, sorry! Give it a listen if you have a few free minutes and let me know what you think! :)